PROGRAM
Tuesday 5 July 2022 Congress in the Nuernberg Messe Exhibition Center
What can you expect:
The "Who is Who" of the aviation and aerospace sector will gather to present and discuss the most exciting and innovative technologies of the industry.
Exhibitors in the following branches will be present:
Airports, airlines, satellite manufacturers and operators, logistics, architects, airport planers, Urban Air Mobility with innovative concepts, drones, "The new reality in automobiles", rockets, UAVs, etc.
Mett decision-makers who will explain their concepts for direct cooperation and exchange. With the scientific world represented by leading universities, institutes, museums as well as Innovative Art.
How will be mobility in our cities and rural areas of tomorrow?
Future starts today. In front of the exhibition hall visitors find exciting new technology objects. The Grand Foyer will feature innovative art demonstrating the congenial link between aviation, aerospace and the environment including 3D Holograms, space sounds.
0
Participants from the entire globe
0
Pavilions from 30 countries and 20 regions
0
Huge Theme parks showcase new developments
The most important start-ups and leading aerospace manufacturers as well as suppliers and service providers present their services for cooperation.
The program will lead you through this congress as an experience with science and industry based on a new concept:
At the Congress Hall exhibitor showcase aviation and aerospace at the best
In front of the entrance you will see objects from the aerospace industry
Here everybody will be impressed by the new space generation in early stage: Astro Kids in astronaut suits bring participants to the registration desk
Selected national and international aviation and aerospace students hand the program of the congress and guide to 50 Pavilions and Theme parks, to the technology show in the runway for new flying objects and to the spectacular Grand Space Park in the courtyard of the exhibition center.
The congress will be opened by successful leaders of the industry. The congress welcomes astronauts with the highest reputation, innovators, decision-makers in business, science, politics, research and diplomacy representing their countries, regions and sectors.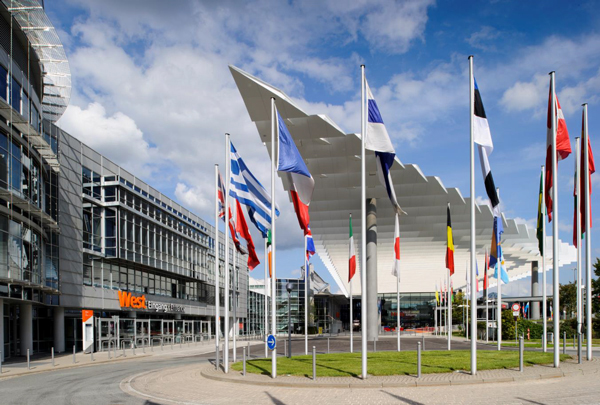 The new B2B platform will surprise you. Upon request we offer preparation and setting of appointments for meetings tailored to your business needs.
With international media present, interviews, photos, videos can be produced and transmitted to relevant press representatives upon request.
These countries are represented:
Ethiopia, Australia, Belgium, Germany, Emirates, England, France, India, Italy, Japan, Canada, Kazakhstan, Kuwait, Luxembourg, Netherlands, Norway, Austria, Qatar, Russia, Slovakia, Spain, Saudi Arabia, Czech Republic, USA, Ukraine and others.
Schedule for the congress day
at the Nuernberg Messe Exhibition Center
5. Juli 2022
08.00 AM – 06.00 PM
Catering
Source: Adobe Stock / Sondem
Buffet with regional and international refreshments
Welcome of representatives of the aviation and aerospace industry, education, business, diplomacy, politics, technology, and science, both regional and international by Ulrike Trapp, CEO Trapp Networks
09.30 am
Dialog between engineering, science, technology, industry
Source: Adobe Stock / ASDF
Covering the topic: How can theory and practice in aviation and aerospace contribute to a peaceful life for all, to an environmentally healthy planet and a clean space?
10:00 AM
Speech of Andreas Scheuer, Minister for Digitalizaton and Traffic Infrastruktur.
Opening of the "Aviation Aerospace Congress" by Andreas Scheuer – Inquiry.
10:00 AM
Speech of Dr Markus Söder, Prime Minister of Bavaria.
Promoter of a modern aviation and aerospace "Perspectives for aviation and aerospace – from the present to the future".
10.15 AM
AACII Special Award for exceptional contributions and merits in aviation and aerospace.
Source: Nuremberg Exhibition Center
One of the guiding themes of this congress is the promotion of the next generation experts in aviation and aerospace. With this Special Award we wish to honor important contributions and merits in aviation and aerospace that make complex topics accessible to people interested in this topic. The award is handed over by representatives of politics, astronauts, science and technology leaders.
The expert panel is headed by the president of the Friedrich-Alexander University Erlangen-Nürnberg Prof. Dr. Dr.-Ing. Joachim Hornegger and includes national and international experts. The Metropolitan Area Nürnberg Association (Metropolregion Nürnberg e. V.), museums and other associations will also contribute.
10.45 AM
VIP tour in the congress hall and in the outdoor areas
Source: Nuremberg Exhibition Center
With the drone place and the inner courtyard for large objects in flight with all participants, sponsors, representatives and with the international trade press with regional, national and international media, TV, radio.
11.30 AM to 1.30 PM
Discussion Forum & presentations
Source: Adobe Stock / Right 3
Various discussion forums, presentations and workshops with distinguished speakers. Digital and interactive discussion at the podium with companies, suppliers, service providers, aviation with officials from airports, airlines, architects and airport planners, logistics, satellite manufacturers and operators, Urban Air Mobility, PAVs, technology associations, universities, institutes as well as regional and international museums.
Source: Adobe Stock / Robert Kneschke
07.00 PM
Get-together at the Imperial Castle of Nuremberg
A shuttle will brings you to the Nuremberg Imperial Castle.
For 1,000 years, this castle has been the favor of all our rulers. Today this mediaeval treasure shines in new glance.
Since mediaval times in the field of aviation and aerospace. Poster and flyer highlight the research and developments on all continents.
"The Gravity Free" Dinner starts with with "Micromolecular Food" and "High in the Sky Aviation Space Mocktails".
The Vice President of the Bavarian Parliament, Karl Freller, will present "Franconia's spirit of research yesterday and today".
Sponsors, exhibitors, astronauts, aviation and aerospace experts, diplomats and representatives of regions and countries will receive a separate invitation to this event.
Earthrise for Uprise changes perspectives. The question is not if but how we handle our mission in the orbit.
«Earthrise» is the picture that has shown humanity another perspective on our planet. It shows the moon horizon – a picture that has been shot by William Anders at Christmas Eve 1965 with Frank Borman during the Apollo 8 – Mission. Shows the moon horizon
by William Anders Christmas Eve 1965 with Frank Borman on the Apollo 8 mission